Hyland Content Portal
powered by Jadu Central
The single solution to improve the way you deliver services and improve customer experience.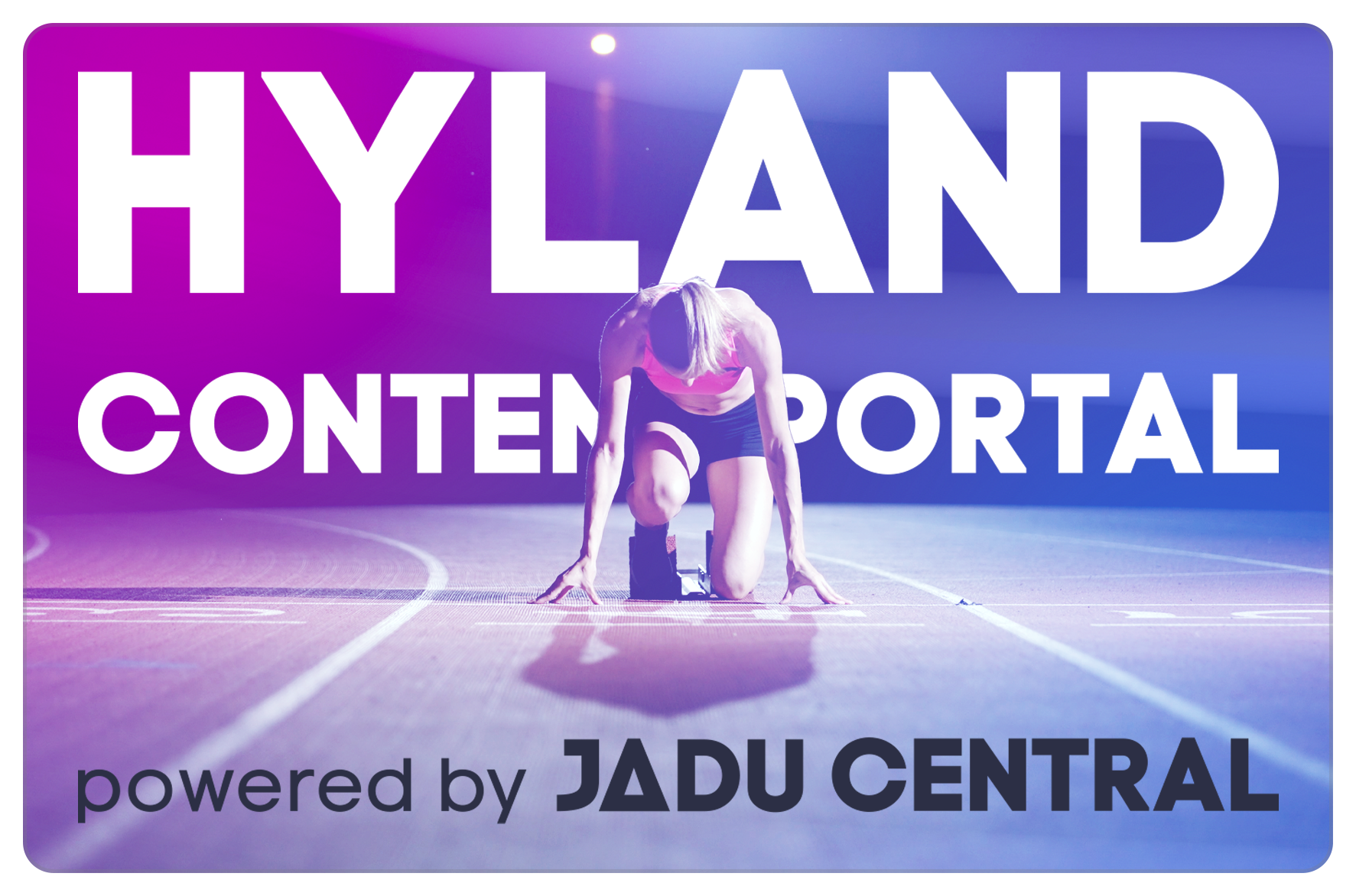 Transform the way you deliver self-service with a personalized, digital experience.
The Hyland Content Portal Powered by Jadu Central, is an integrated solution to deliver highly personalized content and online forms, enabling you to manage content, forms and data in one centralized place, from anywhere, on any device.
Using the integration with Jadu Central and Hyland's OnBase, Hyland WorkView and Perceptive Content, your visitors receive a highly personalized experience, they can self-serve and access important content and services.
Endless Portal capabilities
The Hyland Content Portal Powered by Jadu Central integrates with key back office systems to give internal and external stakeholders access to content, data and web forms; all in one place.
Integrated
Surface data from back-office systems such as Document Management Systems (DMS), Customer Relationship Management (CRM) systems, Learning Management Systems (LMS), and many others.
Responsive
Stay consistent and on brand. Match the design to your organization's existing website, while implementing a portal that is Section 508 and WCAG2.1 accessible from anywhere, on any device.
Personalized
Give customers, vendors and suppliers, students and employees access to what they need, where and when they need it, transforming their self-service experience.
Hyland Content Portal in action
Education
Students can login to their school's website via the Hyland Content Portal Powered by Jadu Central and access online forms, personal files and documents. They can also see their balances, courses and grades thanks to powerful back office integrations.
Government
Residents can access interactive, dynamic web forms on any device, helping cities move away from paper based processes. Users can access what they need to efficiently self serve.
Vendors and Suppliers
Partners can access useful materials, complete forms, submit invoices, search orders and upload documents. Hyland Content Portal Powered by Jadu Central makes collaboration simple and gives partners what they need to effectively work with and represent your organisation.
Employees, Faculty and Staff
Personnel can quickly and easily navigate to and access the information they need to do their jobs efficiently. No more time wasted hunting down documents - organisations gain the ability to better communicate with employees.
Hyland Content Portal with OnBase WorkView Integration
Hyland's low-code configurable framework that allows users to build business applications. Learn in this demonstration how the new integration provides self-service tools that deliver personalized and secure experiences for government, higher education and other organizations.
Watch Hyland Content Portal with OnBase WorkView Integration
Partnering with Hyland
We partner with Hyland to deliver a non-technical platform that leverages the core of Jadu technology to bring digital HTML5 eforms and portal pages to Hyland OnBase and Perceptive Content.
This innovative offering enables external access to an approved list of enterprise data via a vendor portal on your customer's website.
Vendors simply sign in to the portal to view and download documents and content stored in OnBase and Perceptive Content, based on their vendor ID or unique login identifier.
Hyland Content Portal for Accounts Payable
You've deployed a content services solution and it is a game changer for accounts payable. But you are still limited by your vendor's paper processes. Discover how to extend your digital transformation outside your organization's four walls.