Jadu Galaxies make it easy to spin up dedicated websites on the same Jadu CMS platform - perfect for tourist attractions!
Multiple 'Galaxies' websites can be created with Jadu Central. More than simple 'microsites', Galaxies provide Content Management Solutions (CMSs) in their own right for use with full front-end websites.
Different departments within organisations can be given their own site, with a distinctive design and feel. Perfect for tourist attractions!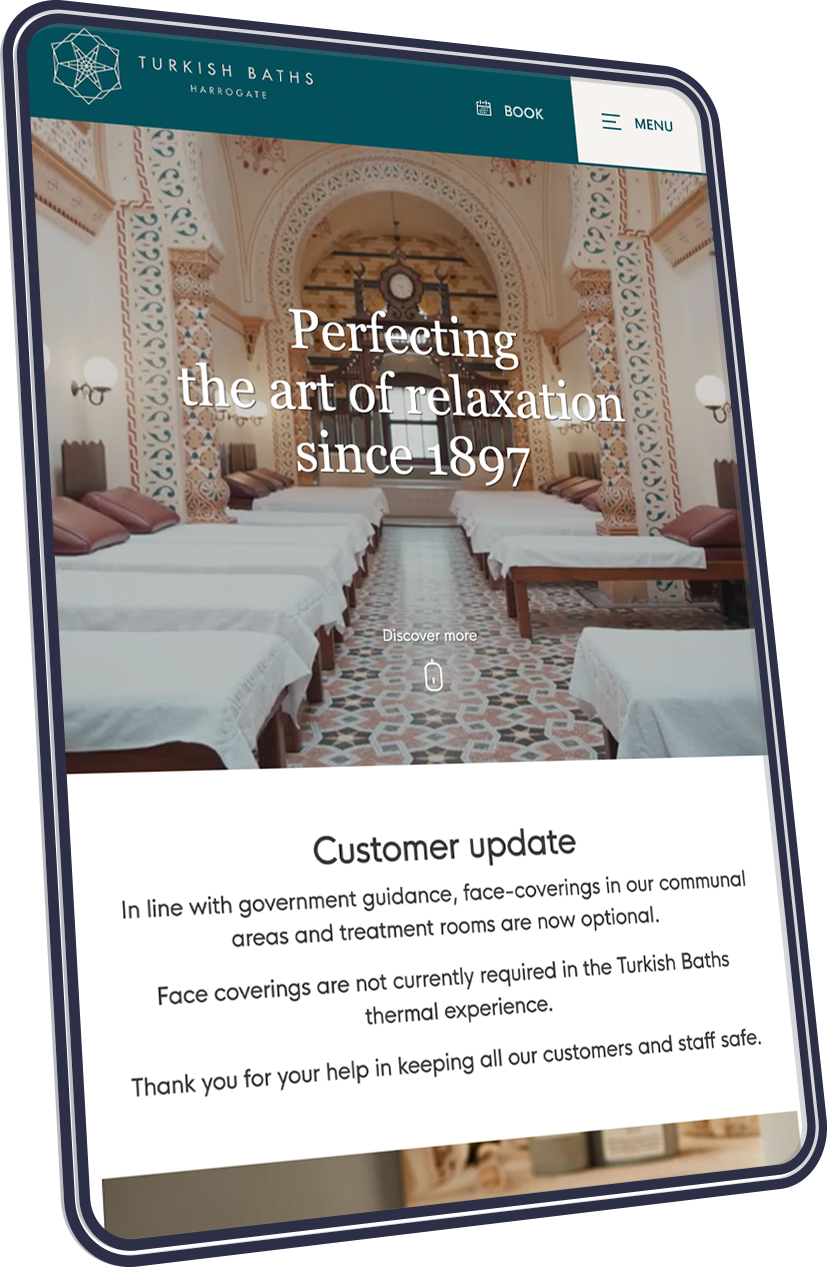 Turkish Baths Harrogate
Harrogate Borough Council manages Britain's most fully restored Victorian Turkish Baths.
Jadu created a Galaxies site (meeting WCAG 2.1 AAA accessibility standards) that conveyed the beauty and charm of the baths.
Through workshops with the client and their external brand agency, we created a site that helps visitors feel like they're experiencing the baths - digitally.
Focusing on beautiful photography, simple yet classical typography and a soft palette of colours, resulted in a user experience that is calm and seductive.
The results speak for themselves, a very usable and professional web experience which really 'sells' the Turkish Baths experience and gives us space to expand online over the coming months and years.

Michael Constantine, Head of Culture, Tourism & Sports, Harrogate Borough Council
Visit Canterbury
The economy of Canterbury, a city steeped in history, heritage and culture, benefits greatly from tourism.
The council launched a Galaxies site to promote the region's picturesque coastal towns, unspoiled ancient woodland and areas of outstanding natural beauty.
There was one guiding principle in play throughout the project: simplicity. Visit Canterbury was designed with a user-first approach that enables residents and visitors to find what they need quickly and efficiently.
Using dynamic and interactive prototypes, testing was carried out across the site before the final build took place. Eye-tracking was used for three key user journeys to evaluate the design and quality of the content and to ensure the best experience possible.
Visit canterbury.co.uk
Our old website was uninspiring, broken and expensive to change. We wanted to work with a company that could help us build something that showcases Canterbury as a great place to visit, while ensuring the website is always kept fresh and relevant by making changes easily without additional cost. Jadu did just that, they understood our objectives and placed a real focus on our target audiences. Communication was brilliant too - I can't recommend them enough!

David Newell, Product Manager (Digital as a Service), Visit Canterbury