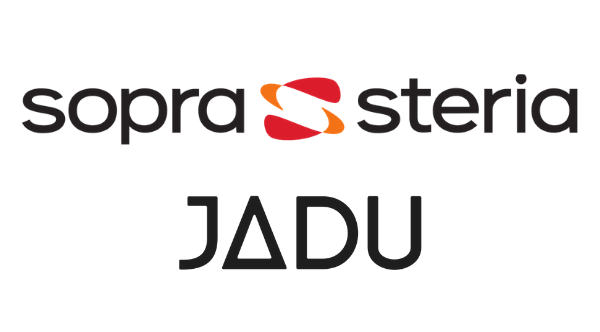 Partnership builds on successful digital service transformation at the Borough of Broxbourne Council.
Sopra Steria, a European leader in consulting, digital services and software development, has partnered with Jadu, the market-leading, real-time customer engagement platform specialists, to offer a market-leading service which will enable a new generation of digital councils.
Through its 'Digital Councils' offering, Sopra Steria helps councils realise the tangible benefits of reimagined, user-centric digital services. The addition of Jadu's intelligent, 'low-code', easy-to-use technology underpins Sopra Steria's local government capabilities, helping to empower digital councils to connect with their staff and citizens. The partnership builds on a number of successful projects together, including at the Borough of Broxbourne Council, which has emerged as a digital innovator in 2020 driving a 69 per cent increase in uptake of digital services. Broxbourne was a 'bottom up' transformation where the focus was not on technology but rather how technology could deliver the desired outcomes for the customer.
Chris Chubb, Sopra Steria's Head of Business Technology Consulting for local government said: "Easy-to-use, end-to-end, online digital services are a must for both council and citizen, and Jadu really is at the forefront.
"The world is changing and council services are more vital than ever before. This has been made abundantly clear throughout the global pandemic. We are looking to build on the transformation with Jadu at Broxbourne, and sharing this best practice with other councils to provide enhanced experiences for end-users while generating incredible efficiency savings for organisations. As we move forward in official partnership we're best placed to help councils release the full benefits of the Jadu platform."
Richard Friend, Senior Vice-President, Jadu said, "Sopra Steria helps local authorities realise the tangible benefits of digital transformation by taking a pragmatic, citizen-centric approach to service delivery. The team provides complete support, from redesigning organisational structures to shifting digital culture, and are experts at leveraging technology to deliver connected and collaborative digital councils. Formalising our partnership is a natural next step, and one that will open-up great opportunities for both parties."
As a Jadu Delivery Partner, Sopra Steria will deliver technology such as Jadu CMS (Content Management System), Jadu CXM (Customer Experience Management) and Jadu XFP (Xforms Professional) to help UK councils digitally transform their services.
--
About Sopra Steria
Sopra Steria, a European leader in consulting, digital services and software development, helps its clients drive their digital transformation to obtain tangible and sustainable benefits. It provides end-to-end solutions to make large companies and organisations more competitive by combining in-depth knowledge of a wide range of business sectors and innovative technologies with a fully collaborative approach. Sopra Steria places people at the heart of everything it does and is committed to making the most of digital technology to build a positive future for its clients. With 46,000 employees in 25 countries, the Group generated revenue of €4.4 billion in 2019.
The world is how we shape it.
Sopra Steria Group (SOP) is listed on Euronext Paris (Compartment A) - ISIN: FR0000050809
For more information, please visit: www.soprasteria.com
Contacts:
Brands2Life: Kate Smith, Kate.Smith@Brands2Life.com, 07516 849 645
Sopra Steria: Emma Morgan, emma.morgan@soprasteria.com, 07961 138697