Designing a place people can visit online and offline
Visit Canterbury
Creating a holistic visitor experience for one of Britain's most beautiful destinations.
Visitors flock to Canterbury, Whitstable & Herne Bay for a great day out or longer break. The area is made famous by Chaucer's Canterbury Tales and boasts some of England's finest medieval architecture, including one of its oldest cathedrals.
Visit Canterbury's previous site was unpopular with both the public and the Council who maintained it, being dated and difficult to update and maintain.
Client

:

Visit Canterbury

Services
The Challenge
To sell a destination, the design and visuals of a website need to be inspiring, engaging and the user experience, impeccable. The idea behind 'Visit Canterbury' is to encourage and inspire people to visit Canterbury, Whitstable and Herne Bay. Whether it's residents or visitors, Canterbury needed to be positioned as a city for a holiday or trip away.
The website is optimised for all devices so people can access and interact with the website on the go - making the best of the area.
It serves thousands of users all over the world. A big piece of this work was personalisation and detecting who is visiting the website, and where they are visiting from - so content can be tailored to the user's needs.
There was one guiding principle in play throughout this whole project. Simplicity. We designed Visit Canterbury with a user first approach to enable residents and visitors to find what they need quickly and efficiently. We did this through design concepts for user testing and review based on previous design work for Canterbury City Council. Using dynamic, interactive prototypes, testing was able to be done across the site before final build took place. Eye tracking was used for three key user journeys to evaluate the design and quality of the content.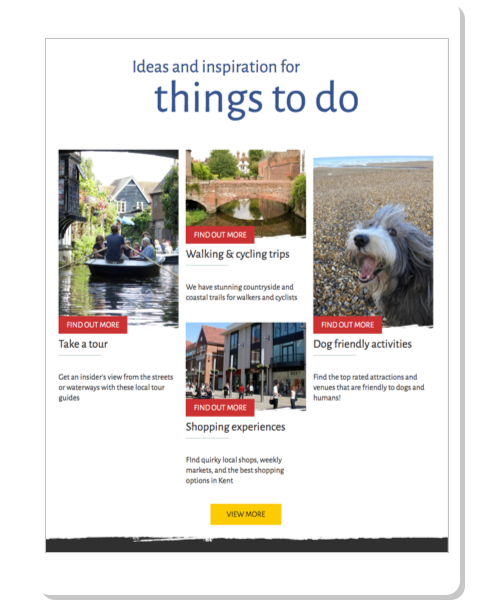 Our old website was uninspiring, broken and expensive to change. We wanted to work with an agency who could help us build something that showcases Canterbury as a great place to visit, while ensuring the website is always kept fresh and relevant by making changes easily without additional cost. Jadu Creative did just that, they understood our objectives and placed a real focus on our target audiences. Communication was brilliant too - I can't recommend them enough!

David Newell, Product Manager (Digital as a Service), Visit Canterbury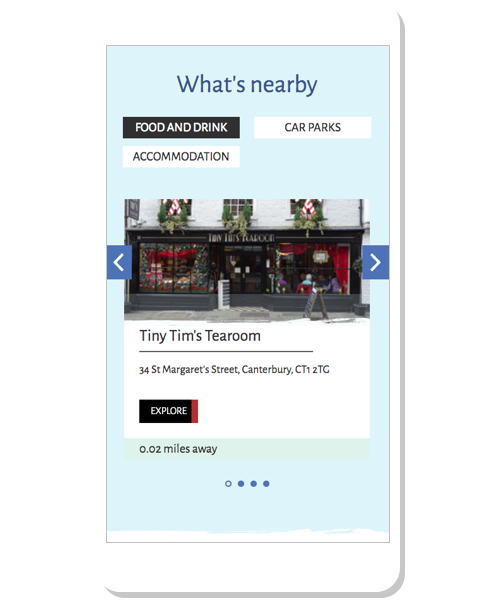 A navigable, engaging and inviting website to encourage residents and visitors to to make the most out of Canterbury and the community. The new system allows all visitors to add listings, including for attractions, events, shopping and accommodation etc. Over 200 new listings have been submitted by users since launching the new website.
Attracting around 36,000 new visitors a month
Increase in engagement - average user stays on the site for 2:17, visiting 4 pages per session.