Courses and workshops suited to you
Our comprehensive Certified Training Programs and courses provide Jadu platform users with everything you need to deliver the ultimate customer experiences.
We recommend undertaking training annually to ensure knowledge and skills are kept up-to-date and in-line with the latest releases.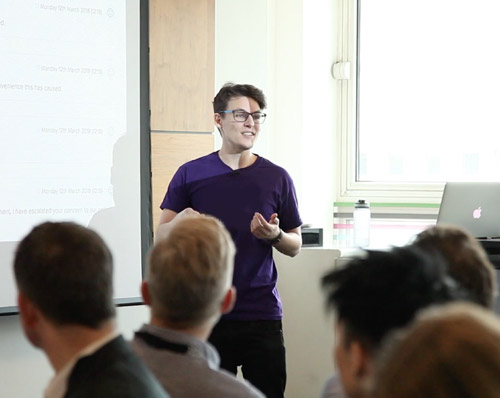 Types of Jadu Training
There are a range of courses available for each Jadu product, which are tailored to the different roles within your organisation. On completion, team members leave with invaluable learnings and new skills.
Jadu CMS Training
Our Jadu CMS Training ranges from basic free training, to more in-depth comprehensive training. We ensure you and your teams have the skills and knowledge to manage content effectively.
Jadu XFP Training
Learn how to build online forms, through to reporting and integrating Jadu XFP PayBridge with your payment service provider. Our range of Jadu XFP Training courses cover all levels.
Jadu CXM Training
Build and manage processes in Jadu CXM with our range of Jadu CXM Training courses. We also offer Jadu CXM Advisor Training for customer services advisors, call centre operatives and other staff members.
Developer Training
Learn how to extend and enhance your Jadu platform. For the more technical colleagues, these courses cover a range of different topics, including the creation and deployment of custom elements and integrations.
Content & Accessibility Training
Join one of our Content or Accessibility Training courses to learn how to improve your web content and keep up to date with the latest Accessibility Guidelines and best practices.
System Administrator Training
A course for System Administrators responsible for managing their own Jadu LAMP and WISP environments.
The course was brilliant, the whole team learned so much and really got a lot out of it. The trainer was great, they really knew their stuff and made the training engaging for us.

Attendee, Introduction to Accessibility