The City of Edinburgh Council
A New Digital Platform for The City of Edinburgh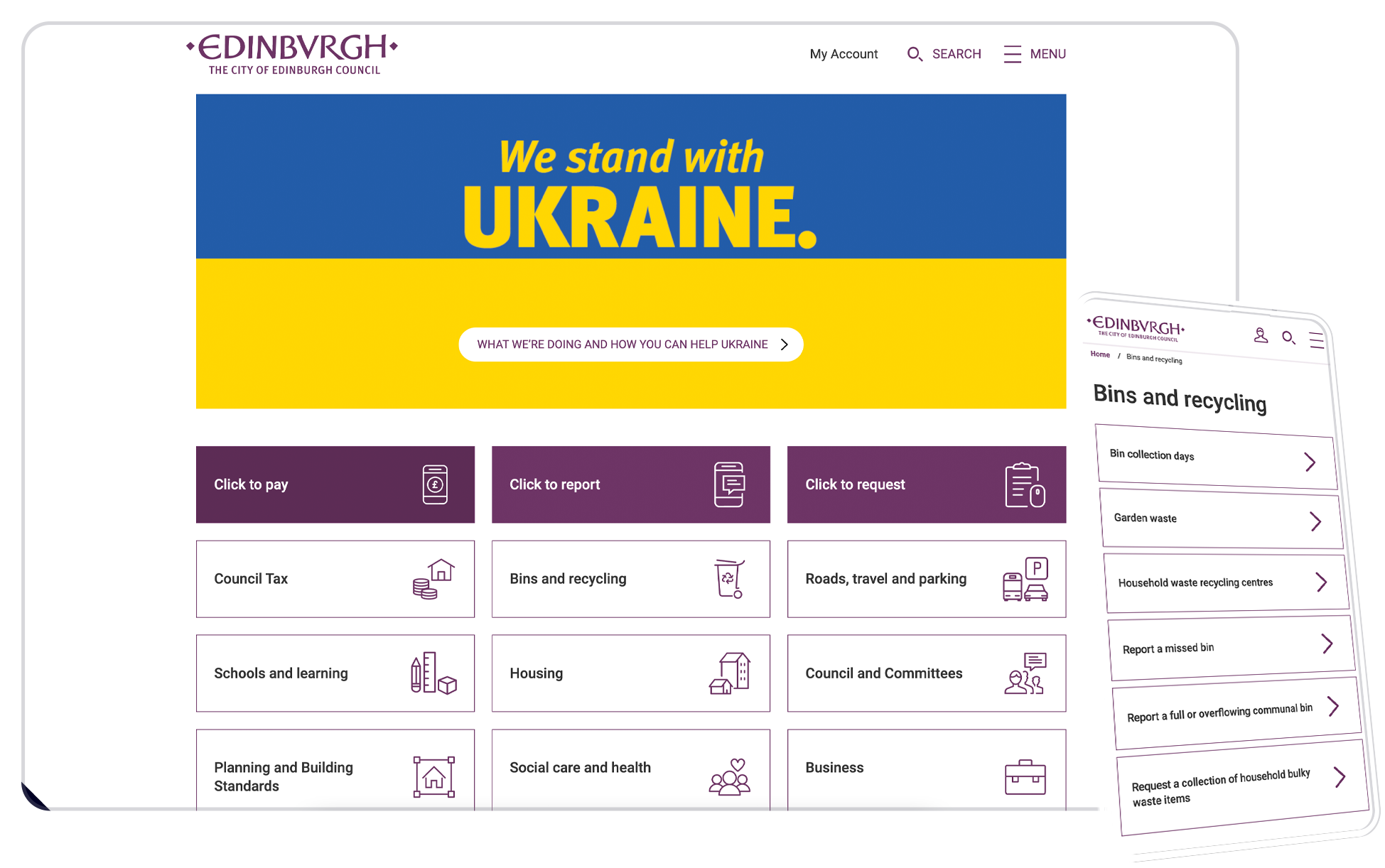 A modern website to convey the vibrancy of the city, with a bold and fresh approach to design.
The Challenge
Amidst a number of time and budgetary constraints, it was essential that Edinburgh's new platform build on the successful parts of previous edinburgh.gov.uk iterations, rather than reinventing the wheel.
The goals were clear:
Create a platform for continuous development
Make it easier to transact online and reduce the amount of calls
Be bright, bold and accessible
Lead in the digital space
Client

:

The City of Edinburgh Council

Services

Products
The solution
Jadu brought together key partners and stakeholders - including web and customer service teams - to define business requirements and creative vision.
Accessibility was placed at the centre of the project from the very start.
To meet the short delivery timeframe, it was decided that a new beta.edinburgh.gov.uk would be developed, which could be iterated and built out further based on user feedback. A content migration strategy was devised that prioritised the most vital and most used services.
User stories were built to understand users' journeys through services to fully inform design choices. Responsive Jadu templates provided a solid starting point to build out the site. A 'minimum viable' product was created from which to conduct public user research and testing.
The 'Jadu Library' is a community driven repository of shared material where local authorities and partners collaborate by sharing assets for building digital services. Drawing on the library helped us save considerable time and resources.

Ana Dragic, Digital Team Manager, Edinburgh.
The result
A new Beta site went live with digitised services including Schools and Learning, Social Care and Health, Councils Tax, Bins and Recycling, Benefits and many others.
As part of the move to a new site, content was streamlined and improved to provide a better user experience. Once the final services had been migrated across, the old site was switched off completely.
"We've used Jadu Central for many years; it's a fantastic platform and easy to use, so we handled the content migration ourselves, which helped with the scrutinisation process we've developed," Ana Dragic, Digital Team Manager, Edinburgh.
Drawing upon responsive and accessible modular templates allowed the site to be launched quickly and efficiently.
Jadu used Jadu's Photon 'template engine' to create the new site, which made for rapid development and a great looking design, but it also helped nail core accessibility elements straight away" Ana Dragic, Digital Team Manager, Edinburgh.
Three new shades of purple were chosen to reflect the historical regality of the capital city, and the site now reflects the city's bright, bold, clear, warm and friendly personality.
The success was achieved through effective communication and partnership, and City of Edinburgh Council now provides its customers with a beautiful online experience that is continuously iterated and improved based on their feedback.